Managing TMD & Other Orofacial Pains, A Modern Physiotherapy Perspective, by Darron Goralsky


Brief summary of the talk
An overview of the interconnected mechanics of the TMJ and Craniocervical Spine and why both need to be considered when treating these patients
A brief understanding of physiotherapy (musculoskeletal) concepts when treating musculo-skeletal conditions and how this applies to these patients
The Aims of Physiotherapy Management
What Physiotherapy Management includes
Why Physiotherapists are an important part of the multidisciplinary team when managing TMD and related conditions.

3 Learning objectives
Gain an appreciation for the interconnectedness of the Cranio-cervical Articulation and the TMJ
Understand how Physiotherapists (Manual Therapists) approach the management of TMD 
Understand why lifestyle factors and patient education are an essential part of physiotherapy management of TMD
Darron Goralsky 
BSC Physio (Hons), MAPA, Post Grad Cert Orthopedic Manip Therapy
I am a South African trained physiotherapist and have been in private practice for 26 years. After completing my Bachelor of Physiotherapy (Hons) degree from the University Of The Witwatersrand in 1993 went on to complete a post grad cert in SA in Orthopedic Manipulative Therapy. I immigrated to Aus in Jan 1997 and went on to study Craniosacral Therapy through the Upledger Institute.
I established my General Multi D practice - More Than Physio in 1999. My interest and passion for treating TMD and related conditions began at the outset of my career while working for the late Franne Mallen, one of SA's pre-eminent manual therapists. She used to say "if it's got bones, ligaments and muscles then Physio's are the perfect people to treat it". I soon realised though that very few Physios did actually treat TMD and even less understood the complex interdependent relationship between the cranio-cervical 'articulation' and the TMJ. This was most likely the case as the face and mouth was considered the 'domain' of the Dental world. I also soon realised that the Dental World at large, tasked with managing TMD, did not have much appreciation for this close mechanical relationship either, nor did they have the same perspective of musculoskeletal therapists. I felt as if TMD has become the 'Bermuda Triangle' of conditions - one I was determined to better understand myself. Over the years I have done many courses including by visionaries like Mariano Rocabado, Jeff Okeson and others, have traveled to spend time with experts and attend conferences (I was the only Aus Physio to attend the International Conference on Orofacial Pain and Temporomandibular Disorders - ICOT in 2014 in Las Vegas). I have dedicated the last 10 years to furthering my knowledge and developing my own approach (the Goralsky Craniomandibular Method) in this area as my exclusive clinical focus. During that time I established the Melbourne TMJ & Facial Pain Centre. In more recent times my focus has also expanded to included areas of understanding such as OSA, Myofunctional Therapy and Tongue ties to better understand their impact on patients we may be treating. I am a member of the Australian NZ Academy of Orofacial Pain (ANZAOP) and the American Academy of Craniofacial Pain (AACP). I am part of a 4 person lecture team for Melbourne Dental School for  their -Bi Annual PD course in Multidisciplinary Management of TMD (alongside Dr Michael Stubbs - Oral Med, Dr Graham Wooley - Prostho and Mr George Dimitroulis - Max Fac). I also presented a lecture in August 2019 at the ANZAOP conference in Adelaide and have presented to multiple Dental special interest groups.
In this time of (Covid-19), Dr Derek Mahony is bringing FREE CPD to those in the dental industry affected by lockdown and unable to practice.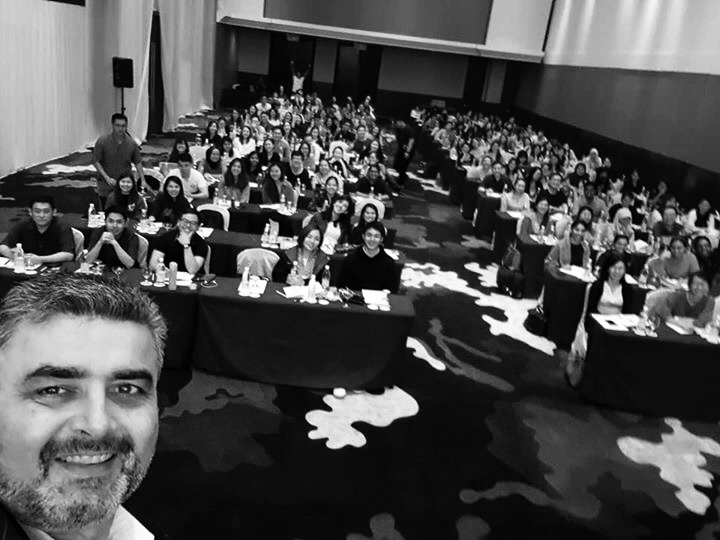 EODO is an in person and online education company for the Dental Industry, worldwide.
Led by Dr Derek Mahony, EODO brings the very best, American Dental Association CERP, to the world, from leading clinicians.
We offer courses ranging from one day masterclasses, to three year clinical and theory Mini Residencies.