An Introduction to the Myofocus Philosophy of care for developing malocclusion in the mixed dentition and paediatric sleep apnoea
The Myofocus System fuses a number of different appliances and techniques, which are combined with a cutting edge orofacial myofunctional therapy (OMT) system called 'Myofocus Take Off Algorithms'.
The 'Myofocus Mini Residency' and the 'Myofocus Take Off into Orofacial Myofunctional Therapy' courses have all sold out at live events in the last 12 months in Australia, Japan and the USA .
This webinar will not only discuss the aetiology of malocclusion and paediatric sleep disorders. An overview of the management of these using the Myofocus System will be shared.
You will see which appliances are used and we will share a number of cases so that dentists, orthodontists and other healthcare professionals can see for their own eyes the power of these amazing treatments.
Philosophies and research discussed will include:
⁃ The importance of an inter-disciplinary approach
⁃ The importance treating as early as possible for cognitive development and psychosocial reasons
⁃ OMT is used in 100% of cases - why?
⁃ Cranial osteopathic and cranial chiropractic care is used in 100% of cases - why?
⁃ Airway and malocclusion is a systemic 'full body' problem and not isolated to the head, neck and teeth
3 Learning objectives
- the importance of early intervention paediatric orthodontics and its relevance to the airway
- Paediatric sleep disorders and the general health of all children. 
- Insights into the management of paediatric sleep disorders and malocclusion using the Myofocus Philosophy
Dr Dan Hanson BDS (UK), MBIBH:
Dr Dan Hanson is a dentist (BDS) and Buteyko Institute Breathing Educator, who since 2011 has limited his practice to early interceptive treatment of soft tissue dysfunction, breathing dysfunction and malocclusion. 
Other non-university qualifications or achievements include:  Qualified and registered as a breathing educator with The Buteyko Institute of Breathing and Health (BIBH) since 2012. Co-founder of The Tongue Tie Institute educational organisation. Co-founder of mYofocUs Pre-Orthodontics clinics and educational programs. Creator of sleepYstrip exclusive nasal breathing device. Co-founder of the myoCPD.Com Online Continuing Education Platform.
Since 2014 his focus has been laser frenectomy procedures and correction of oral dysfunction within Myofunctional Pre-Orthodontics. Working in a team with a collaborative approach to care is a key feature of his philosophy.
Dan has lectured to professional audiences on a regular basis since 2012, with locations including LA, Seattle, Chicago, Dallas, Tokyo, Nagoya and Tokoname (Japan), London, Lyon (France), Sydney, Melbourne, Brisbane, Gold Coast, Perth, and Auckland. His topics include Breathing Dysfunction, Myofunctional Pre-Orthodontics and Oral Restrictions (tongue and lip ties). 
Dr Donny Mandrawa BDSc (Melbourne), FICOI:
Dr Donny Mandrawa is a general dentist (BDSc) and is a Fellow of the International Congress of Oral Implantologists (FICOI). Currently, about 90-95% of his patients are children, with their management being focused on improving oral functional restrictions, correcting orofacial myofunctional dysfunctions, and jaw developments through laser frenectomy procedures, orofacial myofunctional therapy and pre-orthodontics. His initial exposure to myofunctional orthodontics was in 2001. He co-manages his patients within a collborative team approach, alongside various health practitioners, including orofacial myologists, manual therapists, ENT specialists, speech pathologists, and lactation consultants just to name a few.
In 2014 he taught myofunctional orthodontics to 150 dentists for the University of Airlangga in Surabaya, Indonesia. After co-establishing and founding two successful general dental practices, in 2017 he co-founded mYofocUs Pre-Orthodontics clinics and educational programs with Dr. Dan Hanson. Together they also co-founded myoCPD.com Online Continuing Education Platform. 
Besides Surabaya, Donny has also lectured to multi-disciplinary health professionals about orofacial myofunctional pre-orthodontics, in Melbourne, Brisbane, Gold Coast, Perth, Japan (Tokyo, Nagoya and Tokoname), and Dallas (USA), as well as online live webinar hosted in Singapore.
In this time of (Covid-19), Dr Derek Mahony is bringing FREE CPD to those in the dental industry affected by lockdown and unable to practice.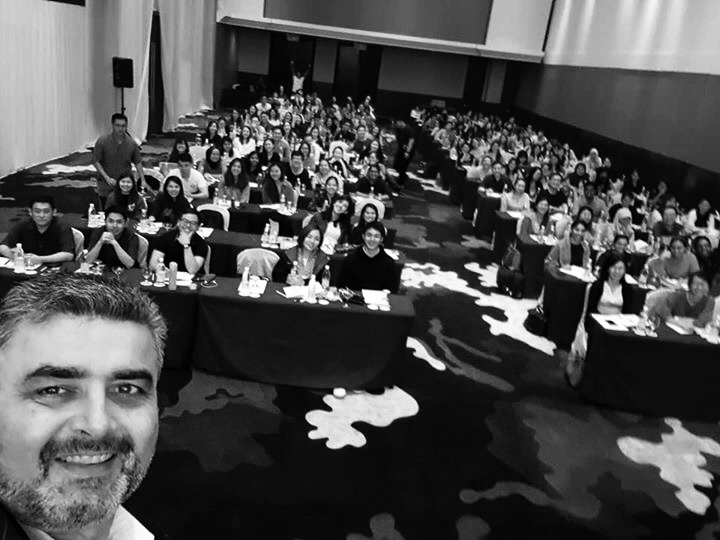 EODO is an in person and online education company for the Dental Industry, worldwide.
Led by Dr Derek Mahony, EODO brings the very best, American Dental Association CERP, to the world, from leading clinicians.
We offer courses ranging from one day masterclasses, to three year clinical and theory Mini Residencies.